Introduction: Addressing Today's Health Challenges
In today's fast-paced world, age-related health issues are emerging at younger ages than ever before, affecting people in their 20's and continuing throughout their latter stages of life.
Conditions such as heart disease, obesity, diabetes, and neurodegeneration no longer respect the boundaries of old age. But what if there was a way to protect ourselves from these diseases and even boost overall health?
Enter the world of Resveratrol, a natural powerhouse with the potential to promote healthy ageing.
What is Resveratrol?
Resveratrol is a potent polyphenol found mainly in grapes. The popularity of this compound is attributed to a phenomenon called the "French Paradox", which refers to the low incidence of cardiovascular disease among the French population despite their high intake of dietary fat.
This low incidence was thought to be attributed to their intake of red wine.1
These antioxidants help safeguard our cells from damage, including harmful UV radiation.2
They are pivotal in our health journey, as they may help guard the body against chronic diseases like heart disease, inflammation, and cancer.3
Unlocking the Benefits of Resveratrol
While resveratrol is best known for its potential cardiovascular benefits, the compound has been the subject of thousands of published studies focused on its other potential benefits. Research states that resveratrol may also promote healthy ageing and longevity by safeguarding DNA and cells from damaging oxidation and inflammation.4 Studies suggest this compound might have potential benefits in healthy ageing5, cardiovascular health,6 blood sugar control,7 and brain health.8
Overcoming the Challenge of Bioavailability
Despite its benefits, resveratrol's main drawback is low bioavailability due to rapid metabolism following absorption.9 In addition it can undergo breakage in the stomach which results in poor absorption.
This is where Reversatrol™ stands out. It uses proprietary Hybrid-FENUMAT™ technology which is clinically proven to enhance the bioavailability more than ten-fold.10
Why Choose Reversatrol™?
With Reversatrol™, you're not only getting a supplement—you're getting a powerful ally for your health journey. This product offers higher absorption rates, allows for lower daily doses, retains nutritional value through timed-release activity, and even prevents natural immune responses from rejecting nutrients.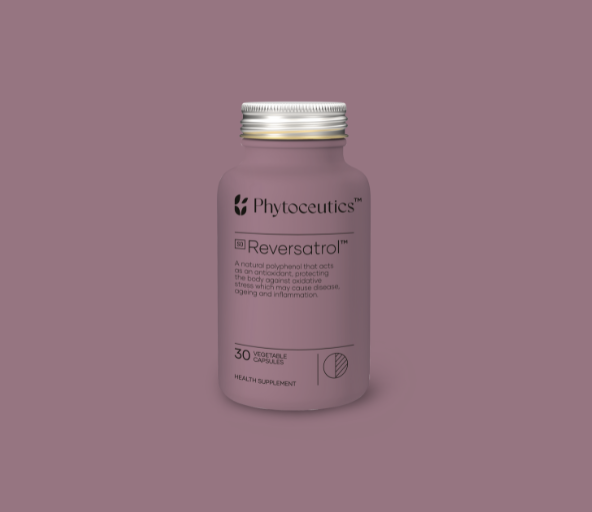 Reversatrol™ Benefits:
100% natural
Patented delivery technology
10x higher bioavailability than unformulated resveratrol with a vastly higher absorption rate
Lower daily dose
No degradation during the digestive process
Resveratrol nutritional value retained through timed release activity
Extended plasma half life
Prevents natural immune responses from rejecting nutrients
Conclusion: Make the Smart Choice for Health
In conclusion, Resveratrol's potential benefits on health and longevity are not to be overlooked. By opting for Reversatrol™, you're choosing a wellness supplement that effectively bridges the gap between nature and science, providing you with a potent ally in your pursuit of a healthier, vibrant life.
| References | Links |
| --- | --- |
| 1. Lippi, G., Franchini, M., Favaloro, EJ., & Targher, G. | Moderate Red Wine Consumption and Cardiovascular Disease Risk: Beyond the "French Paradox" |
| 2. Salehi B, Mishra AP, Nigam M, Sener B, Kilic M, Sharifi-Rad M, Fokou PVT, Martins N, Sharifi-Rad J. | Resveratrol: A Double-Edged Sword in Health Benefits |
| 3. Tapiero, H., Tew, KD., Ba, GN., & Mathé G. | Polyphenols: do they play a role in the prevention of human pathologies? |
| 4. Debelec-Butuner, B., Ertunc, N., & Korkmaz, KS. | Inflammation contributes to NKX3.1 loss and augments DNA damage but does not alter the DNA damage response via increased SIRT1 expression |
| 5. Debelec-Butuner, B., Ertunc, N., & Korkmaz, KS. | Inflammation contributes to NKX3.1 loss and augments DNA damage but does not alter the DNA damage response via increased SIRT1 expression |
| 6. Li, H., Xia, N., Hasselwander, S., & Daiber, A. | Resveratrol and Vascular Function |
| 7. Nanjan, MJ., & Betz, J. | Resveratrol for the Management of Diabetes and its Downstream Pathologies |
| 8. Buglio, DS., Marton, LT., Laurindo, LF., Guiguer, EL., Araújo, AC., Buchaim, RL., Goulart, RA., Rubira, CJ., & Barbalho, SM. | The Role of Resveratrol in Mild Cognitive Impairment and Alzheimer's Disease: A Systematic Review |
| 9. Sergides, C., Chirilă, M., Silvestro, L., Pitta, D., & Pittas, A. | Bioavailability and safety study of resveratrol 500 mg tablets in healthy male and female volunteers |