Ever heard of the term pill-popper? Well, I'm one of them.
Every morning and every evening I swallow a handful of colourful capsules for a number of indications / dietary shortfalls I have identified. Most of the time I can get them all down in one go, but every now and again one gets a bit wedged and leaves my throat feeling uncomfortable for an hour or so.
My mother on the other hand struggles to swallow just one capsule at a time. Don't even think of offering her a big white tablet because no matter how quickly she tips her head back and tries to suppresses the gag reflex, it just won't go down.
Now I wouldn't dare call my mum old, but the elderly (and children) often struggle with swallowing pills. There's also something called "pill fatigue" which I must admit I suffer from sometimes. This is when people lose motivation to take their supplements, due to what's known as a 'high pill burden'.
The last term I want to throw out is "expensive wee" – which I am sure has come up in many a conversation as well. It usually goes a bit like this… "Oh you're taking those supplements? You know you're just wasting your money because you wee them all out, right? Just eat a healthy diet and you'll get all you need."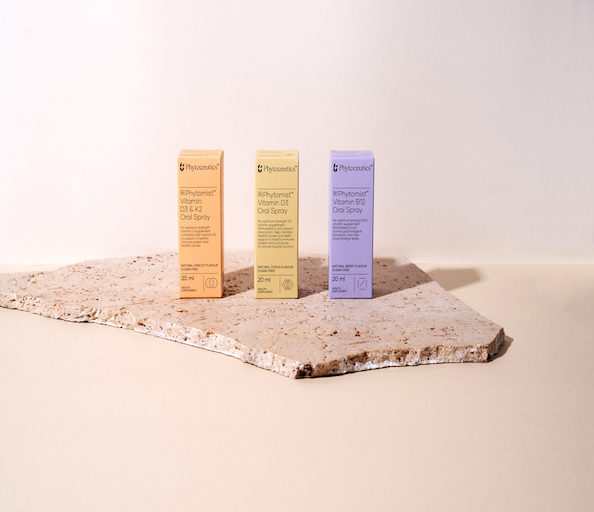 While I agree that a healthy diet is crucial for optimal health, I do not agree that it is enough for everyone. People following limited diets (picky eaters), the elderly, vegans, vegetarians and those taking specific chronic medications often need to supplement certain vitamins and minerals in order to maintain general wellbeing.
Enter Phytomist™ Oral Vitamin Sprays. These delicious, fruity, sugar-free sprays were designed to address all the above mentioned short falls. You don't have to swallow any pills (just 4 sprays directly into the mouth does the trick), they taste great (kids will be begging for another dose), they are efficient (the liquid is rapidly absorbed through membranes in the mouth) and convenient (the bottle fits in a handbag or pocket).
Phytomist™ Oral Vitamin Sprays are available in three variants which address vitamin shortfalls most commonly encountered.
Vitamin D3: necessary for bone and immune health. Some research suggests it has a positive effect on mood as well.
Vitamin D3 + K2: same as above but with the addition of K2 which is fast gaining popularity as it helps to keep your bones healthy by keeping calcium in your bones and out of your arteries.
Vitamin B12: the energy vitamin that helps reduce tiredness, weakness and assists with metabolism.
So, take it from me, these tasty sprays just might be the answer you are looking for. Just don't use them all at once (yes they are that tasty!).
Laura Johnston | Integrative nutrition health coach